InVoice singers - Home Page
"What a lovely way to spend a Sunday afternoon, live music, cakes and friendship - thank you Motif and InVoice for entertaining us all". - The Friendly Bench, Bottesford.
"On behalf of the trustees, staff, volunteers and service users I would like to thank you and your ensemble for your magnificent performance on Thursday evening. What a brilliant sound you make as a group. You must be proud of your choir members. All those present at the meeting continued to sing the praises of the InVoice choir under your skilful leadership".- NIgel Brocklebank, South Lincolnshire Blind Society
"You ACED it ladies without a doubt well done and thank you sincerely for supporting our charity we hope you managed to enjoy the night as much as we did." - Susan Swinburne, South Lincolnshire Blind Society
"Grantham Choir InVoice visited Manthorpe Unit Today bringing toe tapping songs to sing along to. Beautirul harmonies and a chance for some dancing. Much enjoyed by our patients. Thank you ladies" - Lincolnshire Partnership NHS Foundation Trust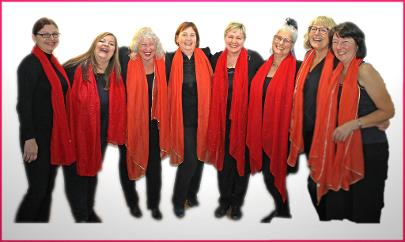 Welcome to the home of InVoice, a small singing group based in Grantham, Lincolnshire, performing light, popular music. Availalble for weddings, functions and concerts.
We are a forward-looking, fun-loving choir. We sing popular music, light classical and original compositions penned mainly by our leader Jenny Walker who has several compositions online.
Email: musinvoice@gmail.com or jwalkergale@gmail.com
For examples of what we like to sing, please click this link. We're always ready to consider something new.